Strong Built Establishments Builders

SBE Builders is a commercial and residential framing contractor located in Discovery Bay California. Dedicated to the art of Carpentery & Roof Framing. We are the professionals for the future of the craft of carpentry.

Elliptical Hip Rafter Calculations For X Axis Plotting
based on Joe Bartok's formulas for plotting points on the ellipse
y = ( Semi-Minor Axis ÷ Semi-Major Axis) × sqrt(Semi-Major Axis˛ – x˛)
x = (Semi-Major Axis ÷ Semi-Minor Axis) × sqrt(Semi-Minor Axis˛ – y˛)
Curved Hip Rafters and Flared Eaves that are common on Witched Gambrel houses, Dutch Colonial, Flemish Colonial and French Huguenot Colonial houses. Also, on Mansard roofs from France that had a eave kick out.
"coyautage" in French or flying gutter by the Flemish.
Elliptical Hip Rafter Plotting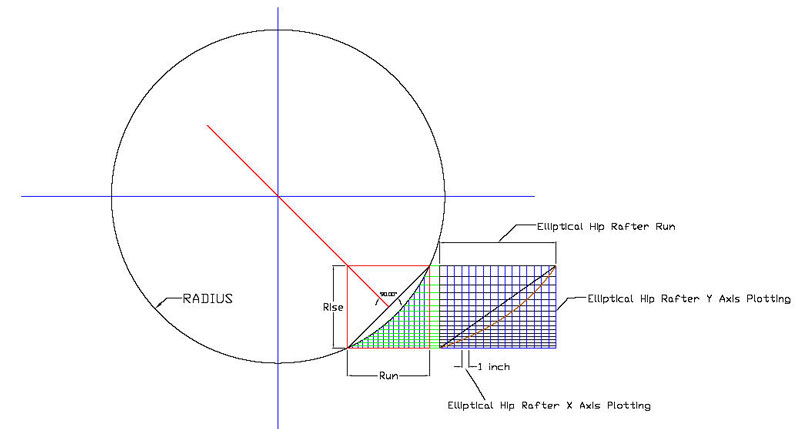 SBE Builders
5305 Laguna Ct.
Discovery Bay, California 94505
(925) 634-6022 • Fax: (925) 634-6022


Commercial & Residential Framing Contractor
American Carpenter and Builder
California Licensed General Building Contractor
CA LIC.# 546126

Roof Framing Geometry
Roof framing geometry is empirical-type knowledge.
Information gained by means of observation, experience, or experiment.
From ground Line 0: Z1, Z2, Z3 etc...
To Roof Axis 0: A1, A2, A3 etc...
To the bring back line 0 for scribing: B1, B2, B3 etc...

We're a member of the Timber Framers Guild

American College of the Building Arts, carpentry and timber framing programs.